original photo by Sakari Puhakka

Itkuja Suite pronounced it-koo-yaw, is an original ethno-music research project knitting jazz, mythopoetic structure, and free improvisation inspired by the oral traditions and healing practices of the lament from Finland and Finno-Ugric culture.

The tradition of song through lament has served as a form of community expression spanning millennia, invoking processes of healing in profound ways. The Finnish word itkuja literally means crying, but hidden within this translation embodies deeper undercurrents of meaning. Itkuja surpasses the biopic Western acceptance of polar opposites (i.e. happy/sad, good/bad), drawing a more all-encompassing world view of the definition of existence, loss, and change.

Storytelling has a profound effect on Romus' musical endeavors. The first of many experimental musical theatrical presentations began in the late 1990s, creating a series of works inspired by Edgar Allen Poe, Philip K Dick, and Frank Herbert. After reading multiple versions of the Finnish National Epic, the Kalevala, he discovered that music based on interpretations of his cultural heritage could serve as a path towards a deeper understanding. While on tour, he visited the cultural center in Joensuu Finland discovering the lament exhibit sparking discussions and research gathering with Dr. Heikki Laitinen and co-composer Heikki Koskinen blossoming new musical ideas based on this oral-tradition. He discovered a deep musical structure that existed in the old healing practice of the lament something he feels is needed even more in these times. These tonal and rhythmic structures present a communal world view which is the spark for the creation of Itkuja Suite.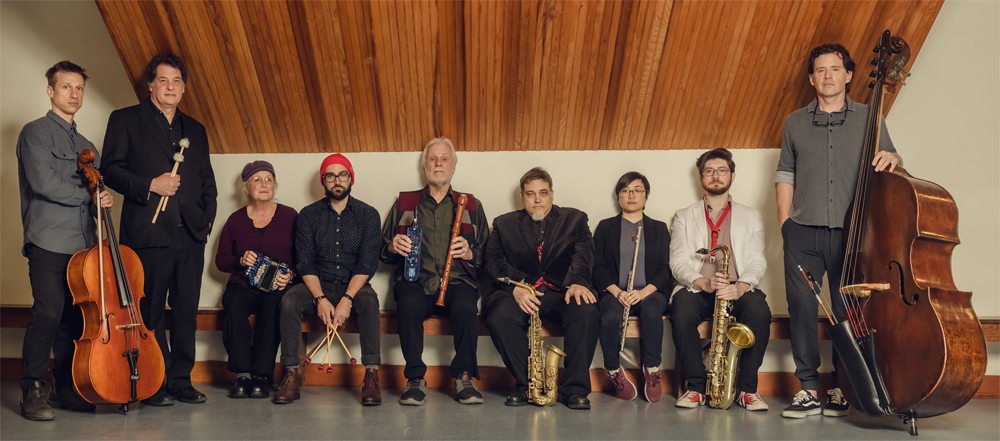 photo by Lenny Gonzalez



Performing Artists: Rent Romus - composition, alto & soprano saxophones, flutes, kantele, bells;
Heikki "Mike" Koskinen - composition, tenor recorder, E-trumpet, flutes, kantele; Joshua Marshall - tenor & soprano saxophones, flute;
Erika Oba - flute, piccolo; Ann McChesney-Young - accordion; Max Judelson - cello; Mark Clifford - vibraphone; Safa Shokrai - double bass;
Cory Combs - double bass; Timothy Orr - drums, percussion



Research Bibliography (www.academia.edu):
- Honko, Lauri., Nenola-Kallio, Aili., Leino,Pentti ., Pentikäinen, Juha., Kaivola-Breggenhoj Annikki., Finnish Folkloristics I, The Finnish Literature Society, Helsinki 1974
-Nenola-Kallio, Aili. Studies in Ingrian Laments, Academia Scientiarum Fennica, Helsinki 1982
- Pentikäinen, Juha. Kalevala Mythology Expanded edition, Indiana University Press, United States 1999
Shamanism and Culture, 3rd edition. Jyväskylä 2006
"The Shamanic Drum as Cognitive Map" Mythology and Cosmic Order (ed. Gothoni R., & Pentikäinen, J). Studia Fennica 32. Piesä`maki 1987
- Stepanova, Eila., "The Register of Karelian Lamenters" Registers of Communication (ed. Asif Agha & Frog) Studia Fennica 18. Vantaa 2015; Mythic Elements of Karelian Laments "The Case of syndyzet and spuassuzet"
- Wilce James., "Voice" or "Sound" in Two Contemporary Finnish Healing Modalities" 2011
- Wilce James., "Tradition, Emotion, Healing and the Sacred: Revivalist Lamenting in Finland in Relation to Three Authenticities" 2017
- Kalkun, Andreas., Oras, Janika., Seto Singing Tradition in Siberia: Songs and 'Non-Songs' www.folklore.ee vol 58 2012
- Arukask, Madis., ON THE INTER-GENRE TRANSITIONS OF LAMENTS AND KALEVALA-METRI C SONGS IN THE BALTO-FINIC CULTURAL SPACE 2009


Research Video:


- Solo lament by Pirkko Fihlman based trad 5-notes
- Tuomas Rounakari - The healing power of the lament
- Aito Itkijä - Martta Kuikka (2001) Interview in Finnish
- Maari Kallberg - matkajoiku
- KROPU - Karelian short film on lament
- Käärmikkä traditaionl Finno-Ugric music ensemble



The 2022 release of Itkuja Suite is made possible through the Musical Grant Program, which is administered by

InterMusic SF

, and supported by the Clarence E. Heller Charitable Foundation, the Hewlett Foundation, and San Francisco Grants for the Arts.

The creation of Itkuja Suite is made possible through in-kind residency support from the
Finnish Heritage Society

stewards of the Berkeley Finnish Hall in the San Francisco Bay Area


The 2022 release of Itkuja Suite is made possible through the Grants for Cultural Projects Program, which is administered by

Finlandia Foundation National.