Otherworld Ensemble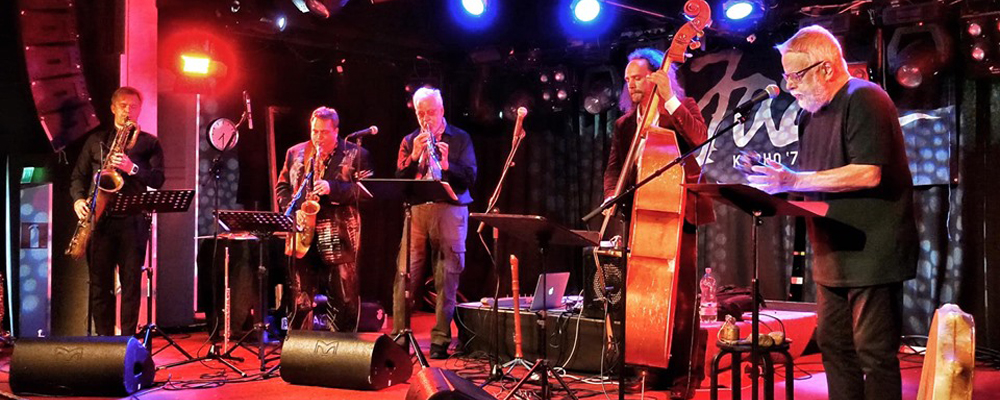 Otherworld Ensemble
is a joint project lead by Jazz Legend Heikki "Mike" Koskinen and Finnish American Rent Romus. They explore music inspired by the Arctic diaspora, mythopoetic structures, and tranditional form featuring some of the most creative musicians in the Finnish music scene. The spark of this project took hold after Romus returned home from touring in Denmark in the mid-nineties. In working with musicians who were integrating their cultural traditional music into American jazz, Romus realized the music could serve as a platform and research tool into his own lost heritage. The "Other World" thematic references this heritage found deep in the "Body of Memory" embedded in the ensemble's musical psyche refracted through a multi-faceted lens of improvisation, folk, and postmodern jazz.

The music consists of original compositions and improvised transitions inspired by the epic rune poems of the Kalevala, northern regional folk songs, and animistic elements. The ensemble arrangements feature voice, double bass, saxophones, brass and percussion, augmented by traditional instruments such as kantele, bells, handmade reed instruments, and overtone flutes. The music utilizes these elements while embedded structurally in ways that abstractly reference the Northern thematic.

Press Quotes
"The music itself had a vision and power. At its finest there was even something reminiscent of the magic of Charles Mingus, while at its wildest it approached Albert Ayler's fire & fury, and then sometimes featured three kanteles, or the gentle calls of Koskinen's tenor recorder." - Jyri Ojala, The Karelian, Joensuu Finland

"John Tchicai's "Afrodisiaca" (1969) was the one that came to my mind after listening to this work. This work is a landmark, a searching passage point of music but a departure that updates the creation of music." - A Challenge To Fate, Tokyo Japan

"The moods of the modern shamanistic rhythms linked up seamlessly with very deeply probing sax and trumpet parts, where Heikki's gorgeously clean trumpet voices were contrasted by Rent and Tane's intermittently harrowing sax lines. " - Jyrki Kallio, Rytmimusiikkia Finland

"The band, together with Heikki Koskinen, Mikko Innanen, Teppo Hauta-aho and Olavi Louhivuori created fine textures and complex grooves which swung despite their complexity."- Jan-Erik Holmberg, HBL

"When Simo Laihonen joined the group the music evolved into burning "free bop", with Romus blowing dense "Coltraneish" sheets of sound while Koskinendelighted with his e-trumpet..." - Jussi Niemi, Tampere Aamulehti, Finland
Performing member roster
Heikki Koskinen•Co-Director, tenor recorder, e-trumpet, flutes, kantele Rent Romus•Music Director, alto saxophone, kantele, flutes, bells
Teppo Hauta-aho•double bass Olavi Louhivuori•drums, percussion Mikko Innanen•baritone, alto saxophone, flutes, percussion
Guest Performers: Simo Laihone•drums, percussion Ville Rauhala•double bass Tane Kannisto•tenor saxophone
About the Musicians
Rent Romus
is a saxophonist/multi-instrumentalist, composer, bandleader, music producer, and community leader hailed by Downbeat as having "...a bold sound, unmistakable sincerity and conviction". A third generation Finnish American born in the great north of upper Michigan and growing up in the San Francisco Bay Area, Romus' work on the saxophone beginning in 1988 has been dubbed "ferocious" by the San Francisco Weekly and "central to the creative music world of the West Coast" by writer jazz critic Frank Rubolino. From his very beginnings as a student of jazz while being exposed to the twilight tutelage of Stan Getz he found himself drawn to the outer realms of Sun Ra and Albert Ayler, as well as Arthur Blythe, Derek Bailey and the far reaches of Merzbow. He currently leads the Lords of Outland a free improvisation unit since 1994, the Life's Blood Ensemble a compositional contemporary ensemble, and leads the Finnish/American group Otherworld Ensemble. He has recorded over 40 albums exploring improvisation and composition in a wide variety of musical settings both as a leader and sideman which have included Chico Freeman, John Tchicai, Vinny Golia, Teppo Hauta-aho, Heikki Koskinen, Thollem McDonas, Stefan Pasborg, James Zitro, Marcos Fernandez, and Ernesto Diaz-Infante to name a few. He is the founder of Edgetone Records with over 30 years of independent music production, and performance experience as well as the founder and Executive Director of Outsound Presents under which curates the bi-weekly music series known as SIMM at the Musicians Union Hall, the weekly Luggage Store Gallery Creative Music Series, as well as annual Outsound New Music Summit, the Bay Area's creative music festival held every summer in San Francisco.

Co-director
Heikki "Mike" Koskinen
has played a key role in the completion of the cycle. His cultural insight and extensive performance history made it possible for Romus to put the final touches on the cycle through literary translation, clarification on the Kalevala storylines and background, and musical consultation. He has been a key musical figure in the Bay Area jazz and Finnish music communities. Chosen in "Rytmi" magazine critics polls as Finland's top jazz trumpet player in the 1970's. He left his native Finland to study jazz at the renowned Berklee College of Music in Boston in 1973. He later moved to San Francisco in 1977. Koskinen is the recipient of several Finnish composing grants, recorded several albums, and won awards as an innovative children's music teacher. His 1980's Bay Area bands, with Heikki on trumpet featured such musicians as Hadley Caliman, Steve Heckman, Mark Levine, Joe Bonner, Bennie Green, Larry Hancock and Michael Spiro. He has worked extensively over the years with bassist Teppo Hauta-aho and saxophonist Mikko Innanen recording his most recent album Kellari Trio on Edgetone Records in 2015.


Teppo Hauta-aho
is a veteran of Finnish jazz, but still tightly involved in the field of Finnish free jazz. The first merits of Hauta-aho on the area of jazz music are from the late-1960s when the European jazzfield got to know the skills of this bassist as Tuohi Quartet, where Hauta-aho played, won the Association of European Radios' band contest in Montreaux in 1971. Hauta-aho's own band Kalmisto-Klang was also a great way to access the world of free jazz, and in the 1970s Hauta-aho already recorded actively with i.a. Edward Vesala and Junnu Aaltonen. Composing has always been an important part of Hauta-aho's music career. Many different works were born in the beginning of 1980's but at the end of the decade he started to work on the field of jazz more actively. In Finland Hauta-aho recorded with e.g. trumpetist- composer Jarmo Sermilä and through the Quintet Modern he made contacts to the German freejazz musicians. Hauta-aho and the saxophonist of the quintet, Harri Sjöström, played later in the European group of the giant of free pianism, Cecil Taylor. In Finland this group performed at the Tampere Jazz Happening in 1998. Hauta-aho has also played with such freejazz legends as German pianist Alexander Von Schlippenbach and British saxophonist Evan Parker. Teppo Hauta-aho has also been the most trusted bass player for the world class musicians of free jazz: he played with Anthony Braxton in 1989 and 2006 and with pianist Marilyn Crispell, and drummer Olavi Louhivuori, he performed at the Raahen Rantajatsit Festival in 2005. Recently the most important Finnish groups for Hauta-aho have been Trio Nueva Finlandia, with saxophonist Paroni Paakkunainen and pianist Eero Ojanen, and Sound Kitchen with trombonist Jari Hongisto and Dane guitarist Hasse Poulsen, Kalle Kalima's K18, Olavi Trio, Kellari Trio with Mikko Innanen & Mike Koskinen, and the most recent project, Otherworld Finland with Rent Romus and Mike Koskinen. With composer-singer Carita Holmström Hauta-aho has performed as a duo since 1970s. Besides the extensive career on the field of jazz, Hauta-aho has also a respectable resumé on the field of classical music, both as a composer and a bassist e.g. in the orchestra of Finnish National Ballet. Hauta-aho has also worked as the artistic director of Jazz @ Opera Festival organized annually at the Alminsali of the National Opera.


Mikko Innanen
, who currently resides in Helsinki, the Finnish capital, was born in February 1978 in Lapinjärvi, Finland. He started playing the alto saxophone at the age of ten after he and his family had moved to nearby Loviisa. His first saxophone teacher was Bengt Ingelin, other important teachers along the line were Jukka Perko, Tomas Franck, Sonny Heinilä, Anders Jormin and Raoul Björkenheim. The saxophonist received his Master of Music degree in 2003 from the Sibelius Academy in Helsinki Finland. He spent a year of his studies (1998–99) as an exchange student at the Rhythmic Music Conservatory in Copenhagen, Denmark. In November 2008, he received the Finnish Jazz Federation's annual Yrjö Award as the Finnish jazz musician of the year. Arts Council of Finland awarded him a three-year grant for artistic work in 2009. He was nominated for the Nordic Council's Music Prize in 2011. Innanen made his initial entry to the Downbeat (photo by Chris Drukker) Critics Poll in August 2014. To date Mikko Innanen is featured on ca. 25 recordings as a leader or co-leader and more than 20 as a sideman. Some of his latest releases are: Mikko Innanen/William Parker/Andrew Cyrille - Song for a New Decade; Innanen/Pesonen/Kallio - Beginnings; Wadada Leo Smith and TUMO - Occupy The World; The Curators - Thank You; Mikko Innanen and Innkvisitio - Clustrophy; Delirium - Green Side Up; Gourmet - Cosmopolitan Sideshow; Kalle Kalima and K-18 - Buñuel de jour; Stefan Pasborg - Free Moby Dick; Kellari Trio with Teppo Hauta- aho and Mike Koskinen; The Otherworld Ensemble - Live at Malmitalo.


Born into a musical family,
Olavi Louhivuori
grew up in Jyväskylä, Central Finland, surrounded by music and musicians. His father is a professor at Music Department of the University of Jyväskylä and mother a violinist and music teacher. Everyone of the seven member Louhivuori family plays an instrument. Olavi began studying violin at the age of 4, but changed to cello and piano at the age of 8. He started playing drums at the age of 9 when he was accepted into the music class of his primary school. In 1998 Olavi enrolled at the Finnish Music Conservatory of Jyväskylä for 3 years. There he joined numerous different jazz groups, including the Joona Toivanen trio and the Jyväskylä Junior Big Band. Being a familiar face in the local Jazz Bar gave him a perfect opportunity to perform and jam with local and international musicians such as Jukka Perko and Indgrid Jensen, to name but a few. The Joona Toivanen trio opened the jam sessions there every Tuesday night for three years. In 2002 Olavi moved to Helsinki to start his studies at the prestigious Sibelius- Academy, where he studied with Jukkis Uotila. It didn´t take long before Olavi found himself working full-time both in Finland and internationally. Winning the competition of the 'Young Nordic Jazz Groups' three times (Joona Toivanen trio 2000, Ilmiliekki Quartet 2002 and Sun trio 2006) gained him numerous performances around the world including tours in U.S.A, Australia, Asia and Europe. For the past few years Olavi has been touring the world as a drummer of Tomasz Stanko Quintet. Besides that Louhivuori has performed with internationally acclaimed artists such as Lee Konitz, Anthony Braxton, Marilyn Crispell and Susanne Abbuehl. He has also played with groups such as the Finnish UMO Jazz Orchestra and Piirpauke. In 2017 he also participated in the Otherworld Finland project with Rent Romus and Mike Koskinen.
Performances
May 21, 2017 - Malmitalo, Helsinki
May 23, 2017 - Helsinki Jazz ry - jaZZanti @ Ravintola Laulumiehet, Helsinki

May 27, 2017 - Kerava Jazz Festivaali Kerava-sali, Kerva
May 31, 2017 - Kulttuuritalo Telakka, Tampere

Photo Gallery
Malmitalo Helsinki Finland May 21, 2017 photography by Joppe Auersalo